Case Study
Alvine Weidenaar, LLP
Web Design + SEO + Advertising
Case Study – Alvine Weidenaar, LLP
Web Design + SEO + Advertising
"They've increased the number of clients that are walking through the front door, how many people were calling us, and our overall leads.
What we've noticed is that we give them a concept, and they put together basically what we envision. That frees us up to not have to worry about any of our digital advertising or our digital presence. We're free to do what we do best, and that's represent injured people."
– Bram Weidenaar, Partner
Get a free analysis of your firm.
Our team will put together a custom report that will include your Google keyword rankings, opportunities waiting for you, and the number of potential clients you are missing out on. 
"I just wish we could purchase an ad in the back of a phone book and be busy for the entire year again."
In one of our first meetings, firm partner Grant Alvine explained how the complexity of today's marketing opportunities created a distraction from what they wanted to be doing, which was focusing on clients. When that new client flow slows down, then firms are forced to think about the things they don't want to be thinking about.
The firm also expressed frustrations with past agencies they had worked with. Large agencies lacked the focus and access we were able to give them. There are no filters to get through to our team. We have always seen ourselves as partners with firms, not just service providers. If there is an issue, concern, or you just want to check-in, we are here for it.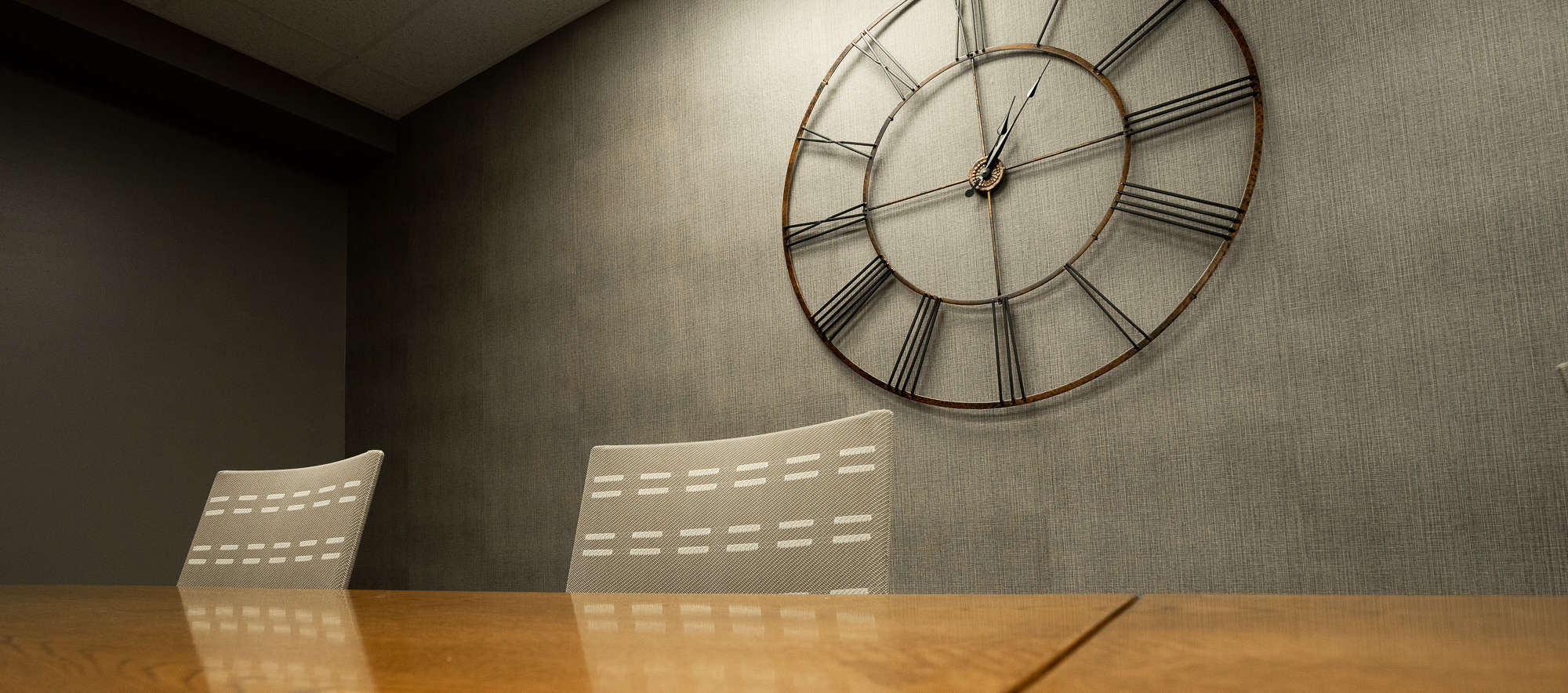 When Visible Lawyer started with Alvine Weidenaar, they almost didn't exist online. Though they had a website, none of the significant keyword terms they wanted to rank for were showing up. As a personal injury and workers compensation firm, Googling phrases related to those sectors found them six or more pages back on Google or not at all. They knew something had to change to get the visibility they needed to capture new clients. 
Our first priority was to re-brand their entire site to better represent their firm. As a multi-location firm it was also essential to create functionality that would allow clients to find and reach out to the correct office. All the services provided needed to be showcased with the ability for individuals to explore how Alvine Weidenaar could best serve them.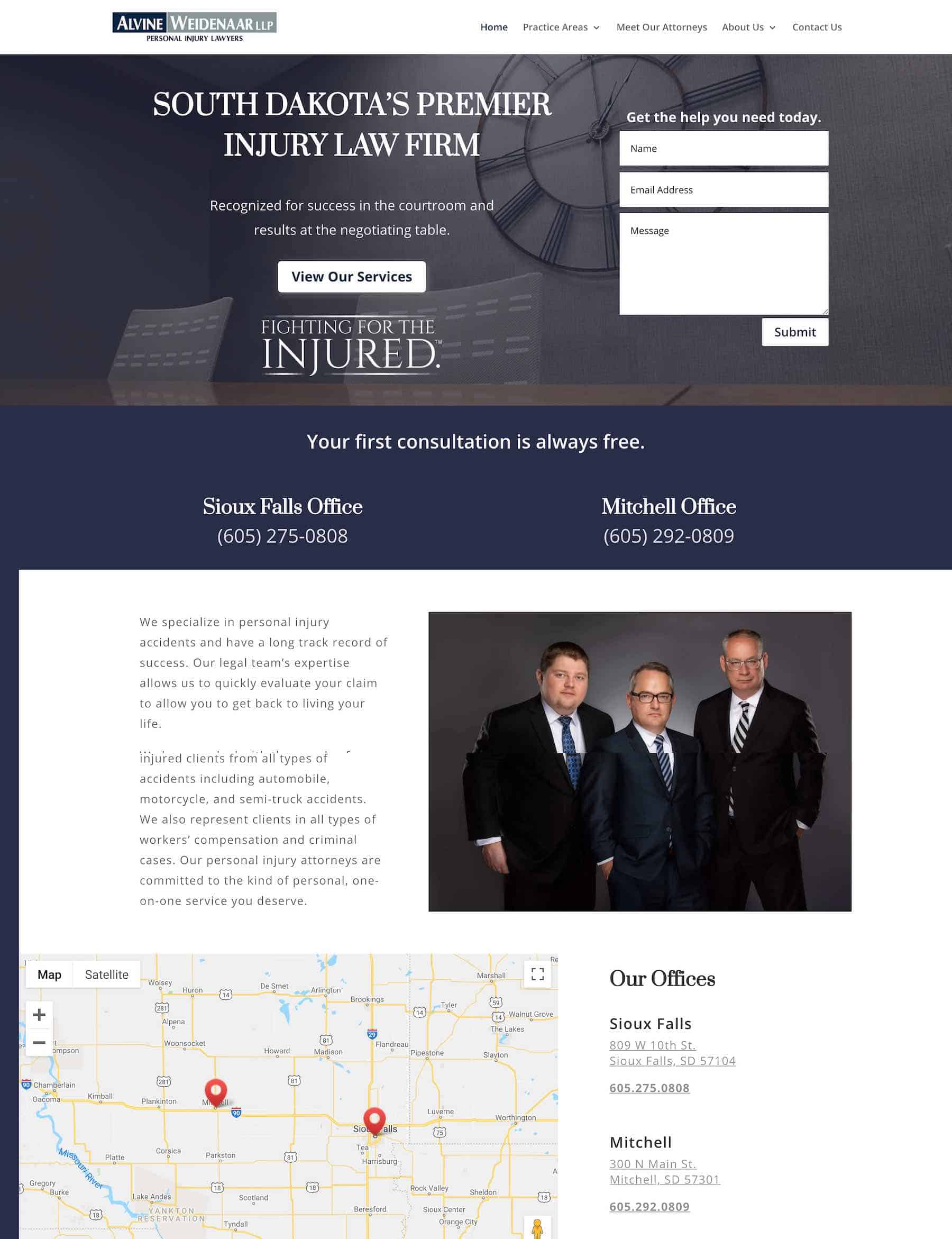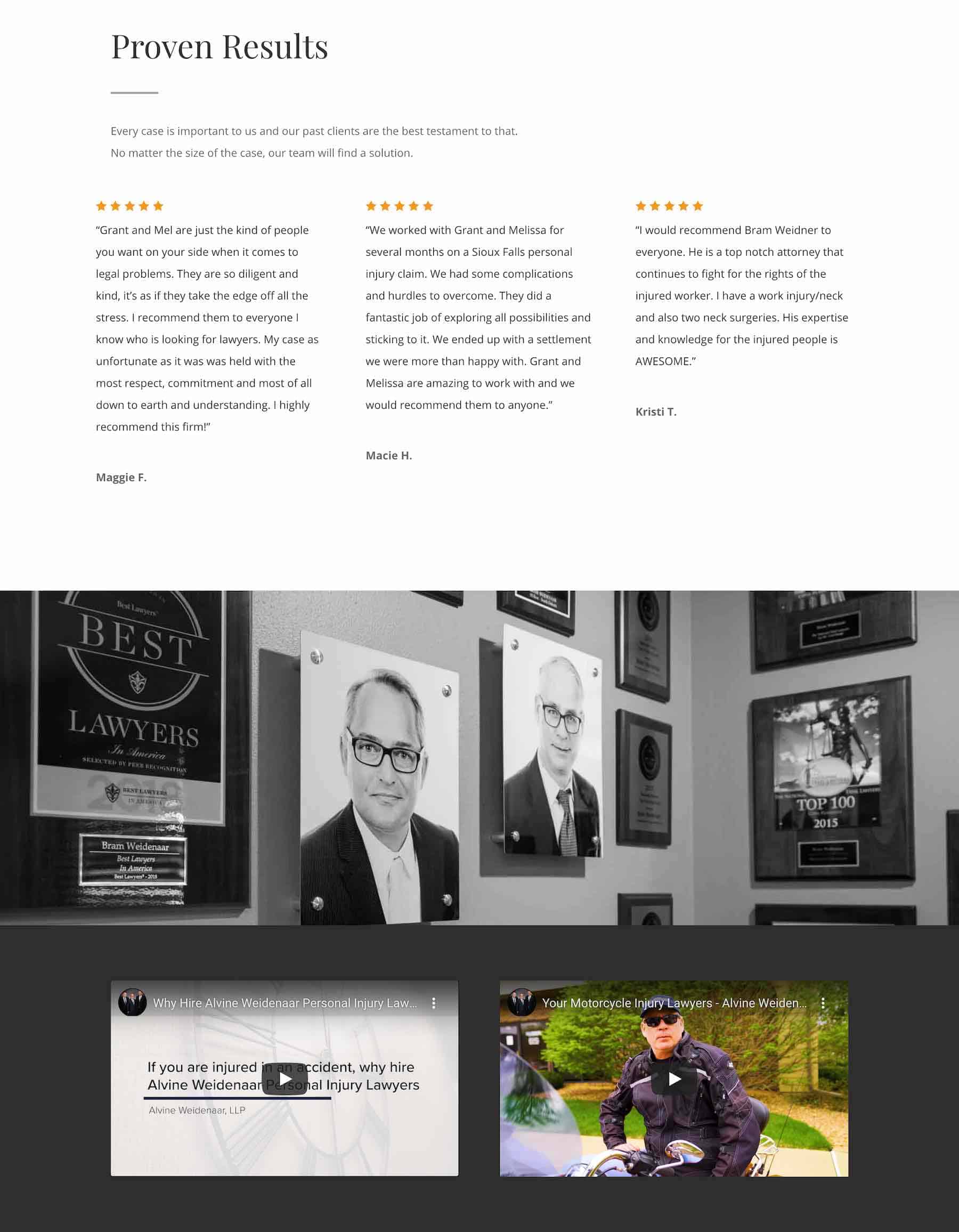 Rebuilding the site also created the opportunity to maximize everything for search engine optimization (SEO) or how it ranks on Google. Google has to be able to read the site properly so it knows what terms you should show up for. But that's about 10% of an effective SEO strategy.
A real SEO strategy involves doing things outside of a firm's site as well. We spend a lot of our time developing relationships with other blogs and websites to place content that links back to our client's sites. The more outside websites pointing to the firm's website, the more credible search engines view the site. We do this at scale with specific processes to ensure that those links have the right wording, quality, and authenticity. What you don't want is Google to think you are somehow spamming everyone.
After finishing the Alvine Weidenaar site we immediately started on an intense SEO campaign strategy. Because of it we began to see movement from not showing up in any search results to 10 months later hitting page one for terms like "workers comp lawyer", "personal injury sioux falls" and many others.
Number of Outside Articles Written
# of Tracked Kewords that went up.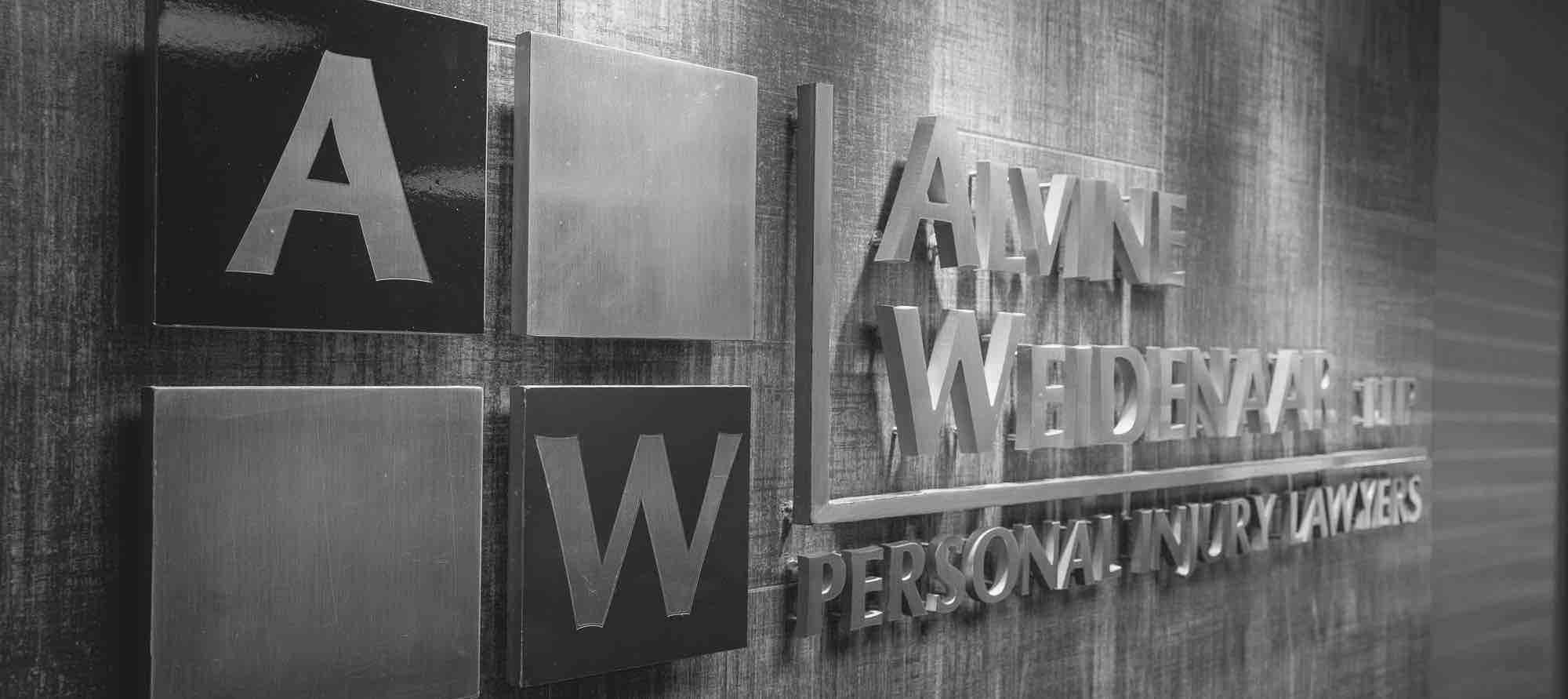 Over those first ten months, our work did not stop at SEO. What about all the time between getting search results to rise? This is where we set up ad campaigns and brand development strategies.
Google Ads is an incredible tool to be at the top of search results while waiting for organic rankings (results from SEO strategies) to take place. We can target very specific phrases and bring people to dedicated landing pages on a firm's site. For instance, if someone is looking up "car crash lawyer," they then land on a page talking about car crash accidents and how Alvine Weidenaar can help them.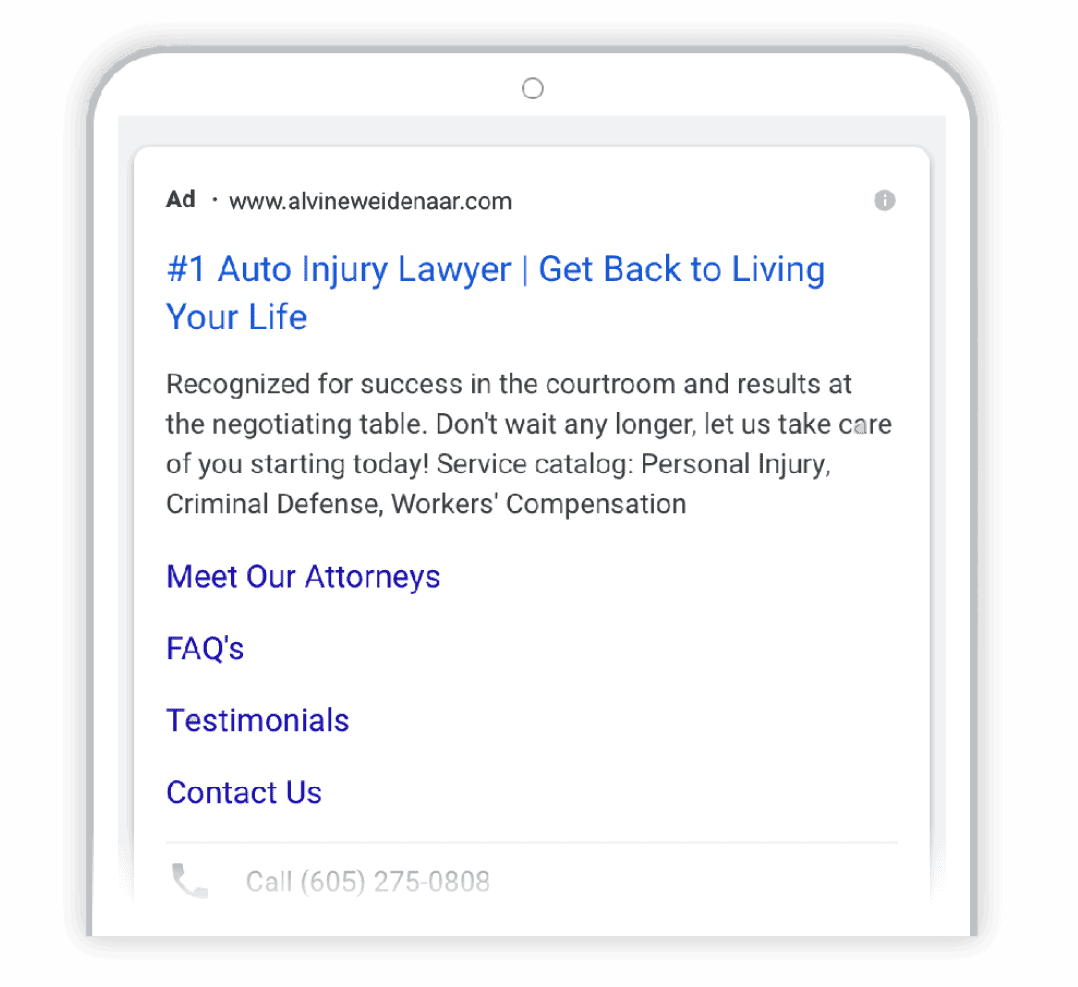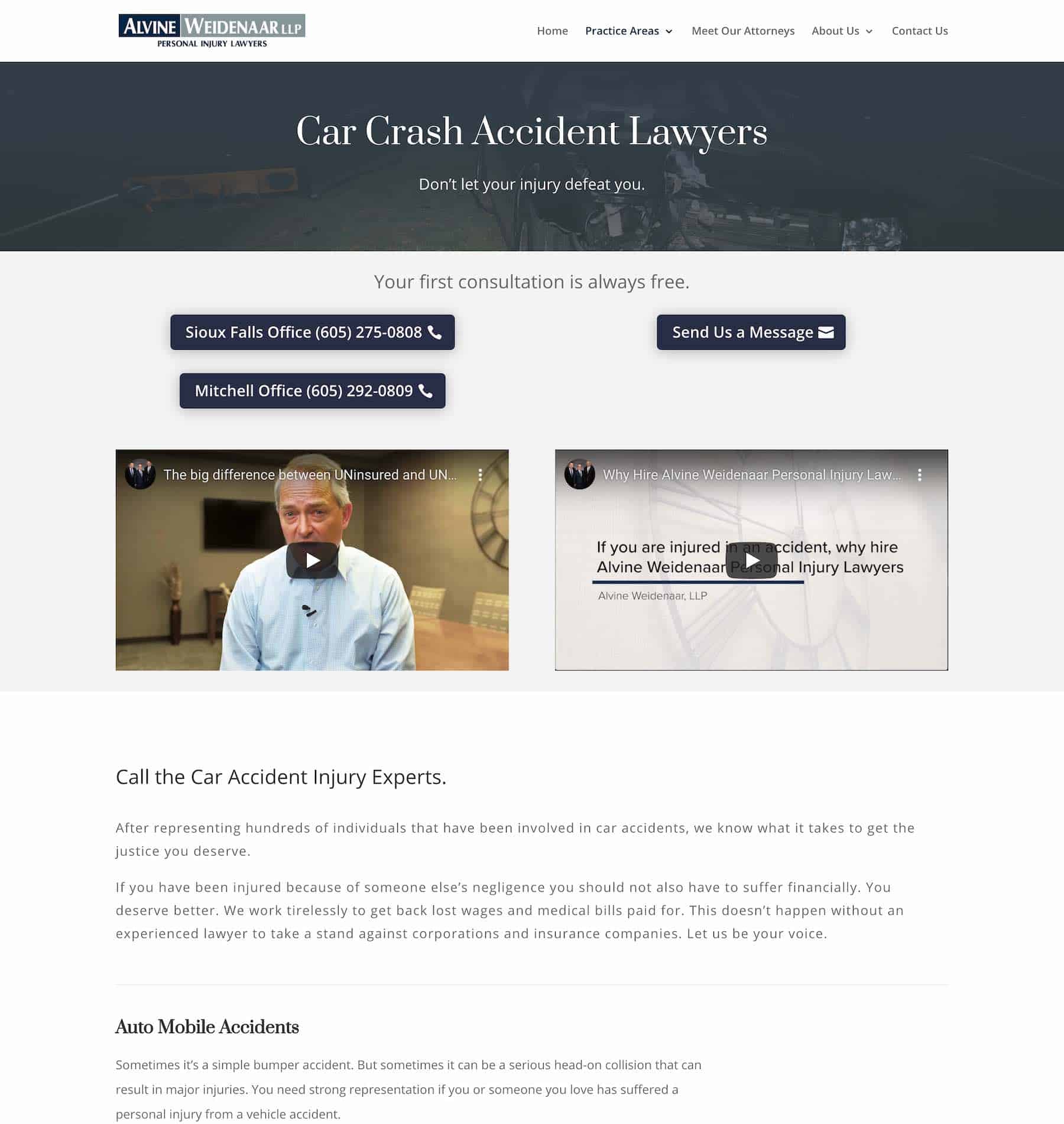 On top of Google Ads and an SEO strategy, we wanted to make sure content was still going out, and we were establishing Alvine Weidenaar as an authority in personal injury.
We shot an educational series and pushed it out to individuals over Facebook. The entire region they served saw their content at least once and anyone that landed on the website was then re-targeted with more information about how the firm could help them.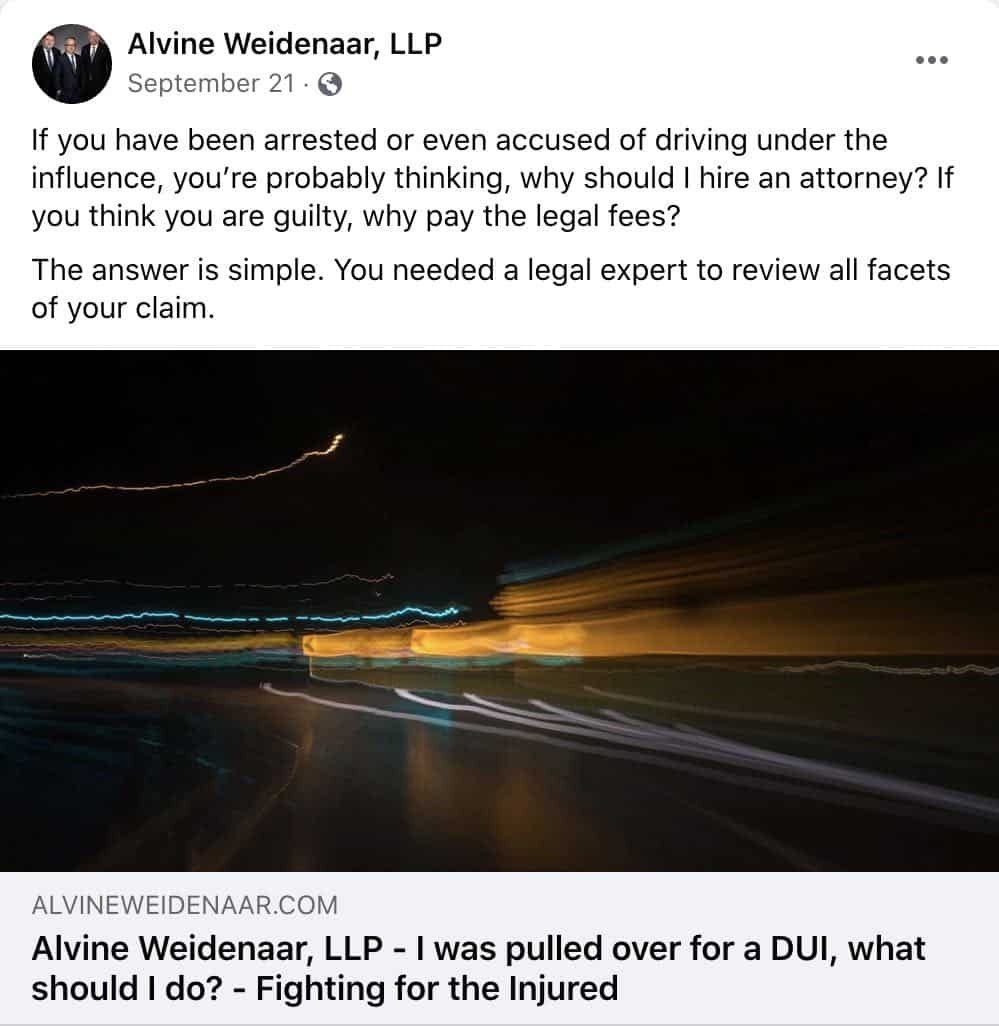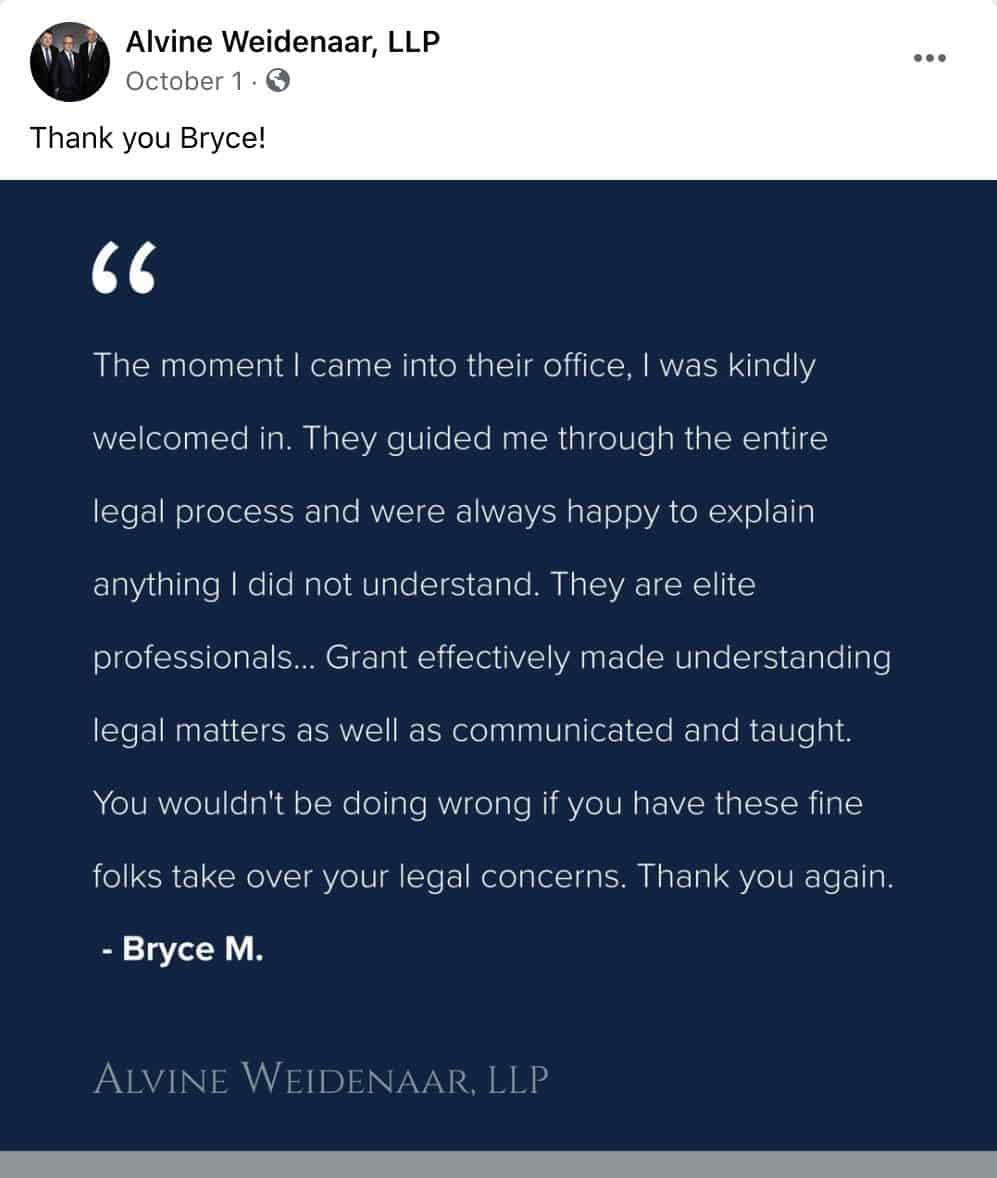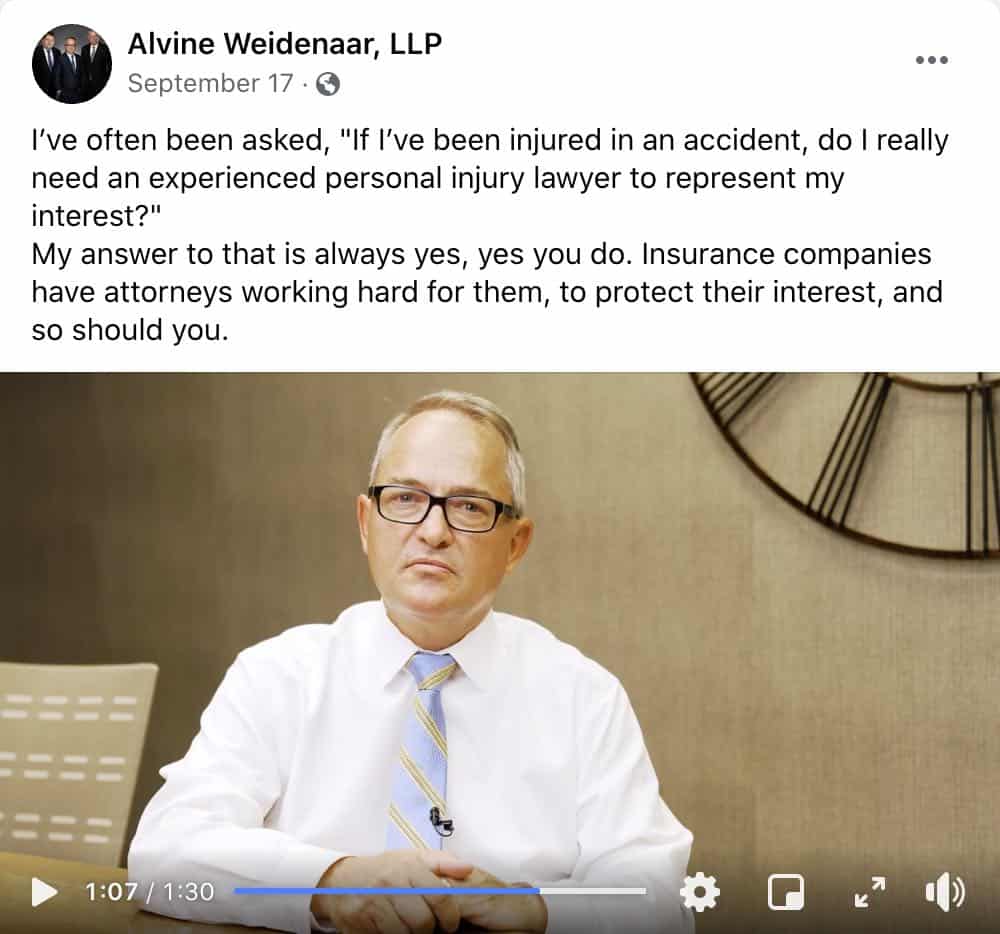 At Visible Lawyer we are excited to see the continued growth of their firm.
If you and your firm are ready to explore how an effective digital marketing campaign would work for you, we would love to set up a call to discuss that.